April 26th:

Strange Sliders, Scary Numbers, and Glassy Gradients
Chris' Corner
Reading Adrian Roselli's "Accessible Cart Tables?" had me thinking how, I would guess, developers would get into accessibility work for the same reason they got into development in the first place: puzzles! Coding is essentially solving little (and big) puzzles all day. You follow a trail of logic, and write your own logic, giving yourself clues along the way, to solve the problem.
Here's the problem in Adrian's article, the accessibility of a shopping cart table like this: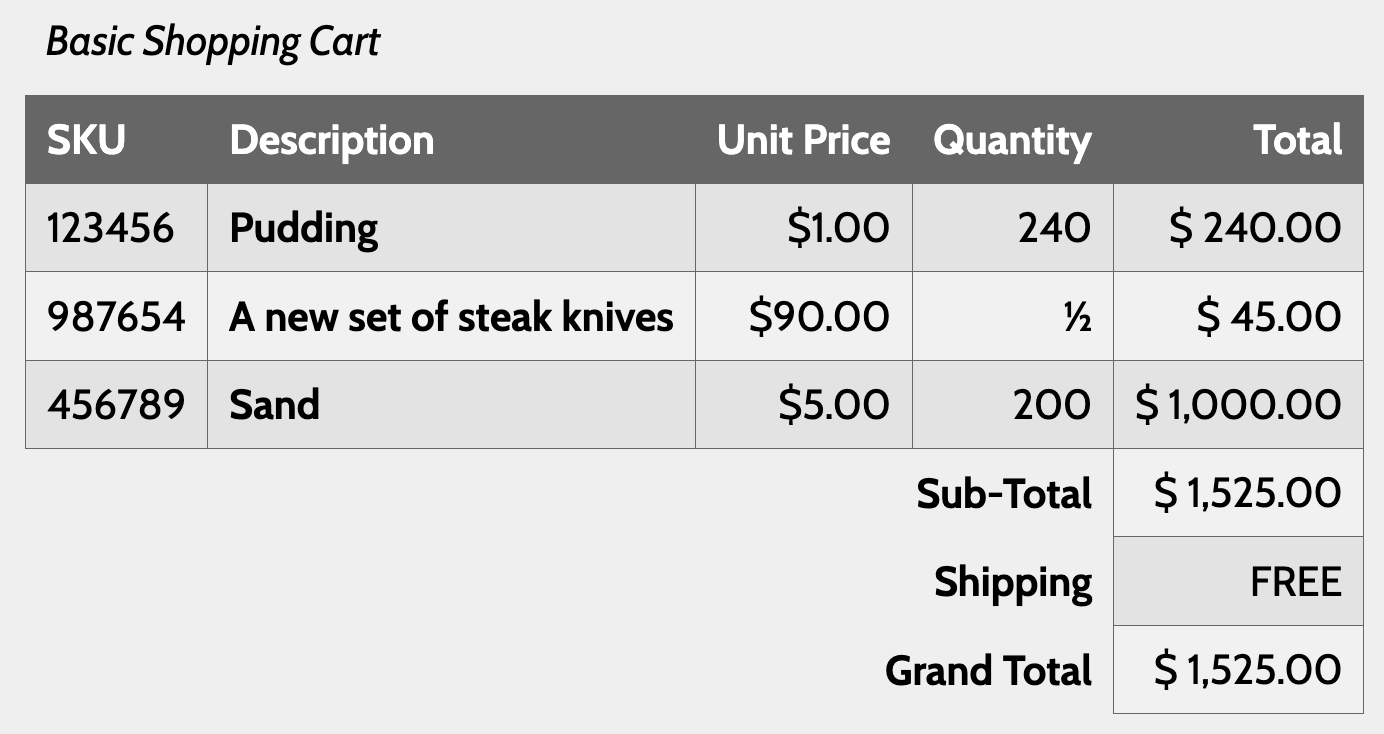 The problem here isn't so much the top half of the table. That's a pretty standard table with five columns and rows that have values in each column.
The problem is the last three rows. Those right-aligned, two-column rows that don't really fit the format of the rest of the table.
Producing this design isn't problem. A <th colspan="4"> for the "headers" of those rows will get you most of the way there. Accessibility is the problem.
There are at least three annoying problems that pop up here. 1) Those bottom "row headers" are under the header SKU, which is wrong. 2) Worse, "JAWS/Chrome announces the last column in those three rows a bit oddly. If you navigate down the Total column into the Sub-Total row, you will hear "sub dash total sub dash total sub dash total sub dash total". JAWS is announcing the row header once for each column it spans." and 3) VoiceOver/Safari gets the row headers entirely wrong in an off-by-one sense. Ooooof.
Some developers would just throw their hands up and say, oh well, I've coded this table correctly so it's the browsers or the assistive technologies fault if it doesn't handle it well.
But have you coded it well? Isn't good coding actually solving the problem? The problem being: providing the information in this table to all users?
In Adrian's post, he continues the problem-solving journey, trying out at least 7 different approaches to the table with the same information but with different HTML, trying to ensure it is read sensibly. Now that's puzzle-solving at it's best.
The demos exist as a Pen to explore, benefiting everyone, not to mention all the browser bugs filed along the way.