CodePen Barcelona: August 2017
CodePen joined LeWagon Barcelona for a meetup with many of it's students and local front end developers in Barcelona Spain. The meetup was hosted by LeWagon Barcelona's driver Gustavo and sponsored by Media Temple. The event was well attended considering we only had one week to promote the event in Barcelona.
Two members of Team CodePen were working remotely in Barcelona when a serendipitous meeting with a new coder friend, Erin, introduced us to Gustavo and future LeWagon driver in Milan Francesco.
The ties that bind the tech community are strong. Our very own Dee Gill quickly setup a CodePen meetup with Gustavo. We chose an interview format because we thought it would be interesting to the coding bootcamp students who were getting started with their front end development education.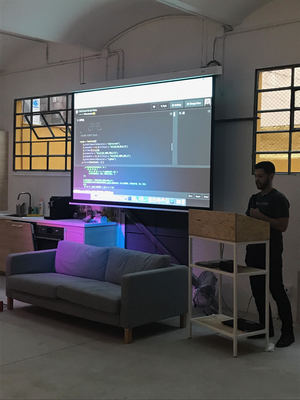 I told my version of how CodePen was created. We discussed how we decide what to work on at CodePen, why we chose to take funding after three years of bootstrapping and where we hope to take CodePen in the future.
A fun fact about CodePen. Chris Coyier emailed Tim and I about starting this fun "weekend" project on February 2, 2012. Chris tentatively named said project TinkerBox 😬. We chose CodePen because the domain name wasn't available 😌.
---