CodePen Chicago: August 2016
Lucky number seven.
This was the seventh CodePen Chicago meetup! I have to say that I haven't walked away from one yet thinking it wasn't a success. Each one has brought together a group of open-minded, welcoming, and crazy smart people. Each one has inspired me to do more (meetups and pens). But there were some things about this one that emerged as special:
Five of the nine presenters were first-time presenters.
At least two of those first-time presenters were also first-time CodePen Chicago attendees.
One of the presenters has presented at every single meetup.
At least five of the presenters expressed that the meetup itself motivated them to create the thing they presented.
One of the presenters sighted a pen shared at a previous meetup (this pen) as direct inspiration for the pen they presented.
The point is, we're seeing something happen within the community that CodePen, and also Chicago specifically, has fostered. People are being motivated to create. They are inspiring each other, and they are sharing and growing because of it. I make it a point to keep the format and vibe of the meetup loose and informal, in hopes of opening the doors for more people to feel comfortable enough to share and take part, but it's still not a super easy thing to get up in front of a room full of people and share something you built — especially when we're used to the often harsh feedback and criticism that we encounter on the web. But I'm happy and proud that new people continue to get up and share what they've done. It's a great accomplishment for the individual and it's a great inspiration to others that haven't done so themselves yet.
Anyway, I was out with some of the people that were at the meetup afterward, some of whom actually work at CodePen, and some of these ideas came up in conversation and I felt really good about what everyone here has created. So thank you. Thanks to everyone who comes out to these things and makes it what it is, and thanks of course to Chris and Jake and Marie and all of the folks at CodePen, and last but not least, thanks to Jeffrey Anderson and Capital One for hosting us in their incredible office and providing us with the fanciest drinks and snacks we've ever seen!
For your convenience, here is a collection with all of the pens that were share: http://codepen.io/collection/AaeYRg
---
Our good pal Dan kicked things off with by sharing his recreation of MS paint in react with the twist of...emoji for brushes! 😂
Matt (hey dude, what's your last name?!), who is a new developer at Capital One, shared with us his very first pen, which he made, I believe, just hours before the meetup. Matt whipped up a rotating version of the Capital One Tech logo made with canvas.
Veteran CodePen Chicago presenter Jake Albaugh blows our minds once again with another musical pen that illustrates (with visuals and sound) how musical patterns with different time signatures overlap.
Chris (aka Coach Chris, aka Professor Tricks) went above and beyond and put together a little lesson for us, digging deep into how SVG paths are written and walked through the various methods made available for path manipulation. In light of the recent release of Chris's A Book Apart book, Practical SVG, he thought it would be cool to show us some cool SVG tidbits that aren't covered in the book at all (but the dude gave out three copies of the book anyway — so rad!). You can check out the slides Chris shared here: Let's Try to Figure Out <Path>
(Thanks for the photo Marie!)
I rarely come to these meetups with something specific in mind to share, though I have been convinced on the spot to share something at past meetups, but I actually used this meetup as a reason to try something that's been on my list for a while. I've always loved the album artwork on the old Blue Note jazz records and when flipping through a catalog of them at work one day it occurred to me that so many of them would work so well as animations. I bookmarked a bunch that I thought would be fun to recreate and animate on the web and they sat unused for ages, so I finally got around to taking my first stab at them with the below pen. I'm planning on doing more, so stay tuned...
Eric showed an out-of-this-world (not sorry) 3D earth and space scene rendered in WebGL and talked about its virtual reality mode and compatibility!
This was Jon's first CodePen Chicago! Jon recently built his website and put together a couple of pens to share some of the fun aspects of it, like typing text and changing background colors.
Colt Borg showed us a really slick way of achieving a single-page-app-like experience with just CSS (go ahead, delete that js, see it work still!).
Myles (sorry Myles, I didn't catch your last name either!) walked us through a really beautiful pen that displays some random text as a react component and reveals the letters in fantastic fadey-floaty "random" (Jake and Myles talked about how it's only truly randomized when the Sass is compiled) sort of way.
---
Photos From The Evening
Jeffrey at Capital One had this killer led light display greeting us as we entered the (ridiculous!) space. Photo by Justin Conway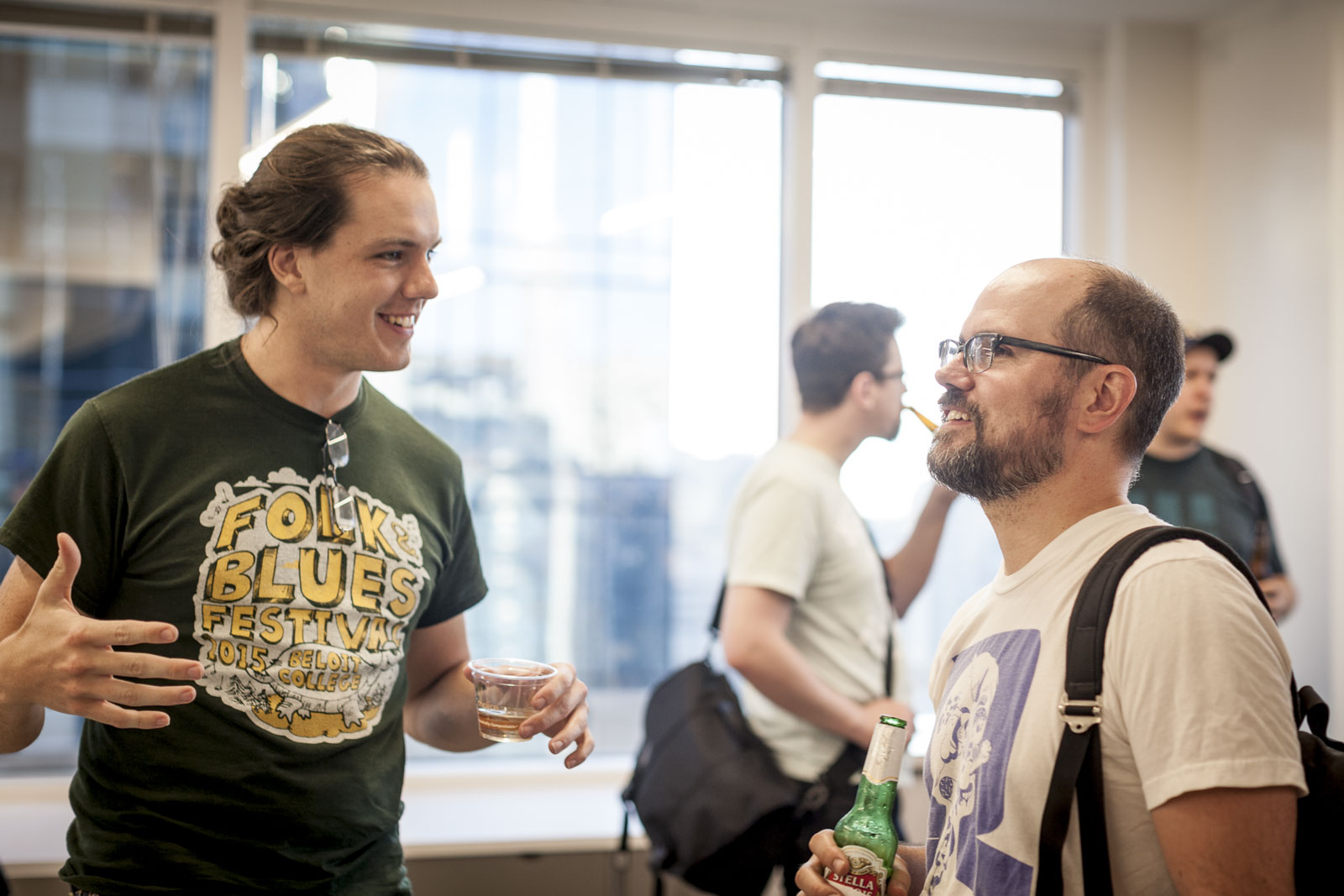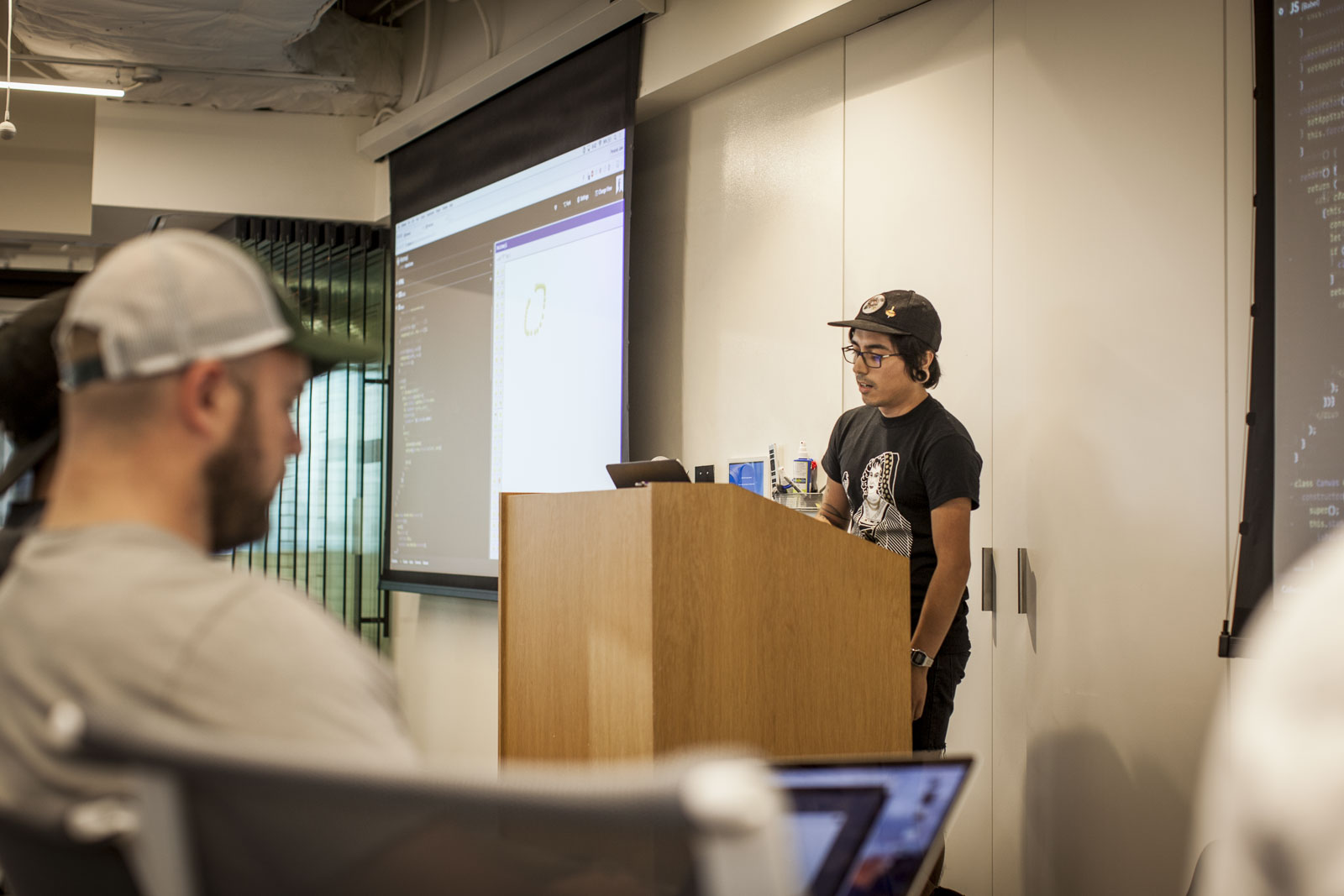 Chris hops up to mess around with Dan's pen a bit.
Jake said something funny.
Chris stabbing his laptop.
Coach Chris trying to get the team fired up for the big game.
Coach Chris goes over the play, codename 'Quadratic Bézier Curve'.
Ron: "Hey there Poopsplat ;)"
Jake and Myles discover some disturbing truths together.
Until Next Time
Thanks again to everyone for coming out and making this another fantastic meetup, and I can't wait until the next one!
If you want to hear about when the next meetup will be happening sign up to the mailing list here: http://eepurl.com/b4nNVL
If you have ideas, questions, comments, or would like to host a future meetup, send me a message: matt.m.soria@gmail.com
Matt
---