Canada Eh! Project Outline
Happy June everyone! It's finally starting to heat up in Toronto and it's feeling like summer in Canada!
As a proud Canadian, I was totally biased when it came to choosing this theme. I really wanted to include it because it's Canada's 150th Anniversary this year and after I travelled across the country last summer, I really gained an appreciation for how beautiful and diverse it is. I hope you enjoy celebrating along with me!
And as promised, for this month's Creative Coding Club theme - I've gone back to providing some simple + cute SVG assets for you to play with...
(not sure how I feel about that gradient background, I invite you to improve that...)

The idea for this project is to start by animating-in the word "CANADA" in an artistic way. Each letter is made up of 20 triangles, and each symbol is made up of the same amount.
After the word animates in, each letter's triangle will morph (on click? make this interactive?) into their corresponding symbol (mountains, beaver, trees, maple syrup, hockey and lighthouse). Download all the assets as separate SVGs here.
I recommend using GSAP's MorphSVG plugin for this. You can try it out for free here on CodePen!
Also - of course, please feel free to use only some of the assets and make a totally different project altogether.
Otherwise - stay tuned for a project solution posted next week! Have fun, hosers!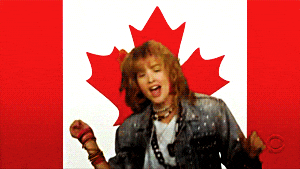 ---