CodePen Chicago: July 12th, 2018 @ Jellyvision
Special Guest: Jeremy Kahn
Jeremy Kahn works at Jellyvision and focused on the experience of building multiple open source libraries to address different features in animation. The entire talk focused on how to make incremental progress towards building out a product similar to Flash by making smaller libraries for specific features. The initial concept that lead to this journey was Kapi, an open source keyframing library for canvas. It showed Jeremy had a lot to understand about building tools for others but incredibility fullfilling. After Kapi came Shifty which was incredibly successful compared to Kapi and other libraries Jeremy built but is leading to Rekapi, a rebuild of Kapi. The advice and motivation for building all these libraries? Pacing, focus on the project, small victories and have your eye on the prize.
Presentation: Lessons Learned from Trying to Climb a Mountain
Libraries:
Presenters:
Brian Montana
I showed a fireworks particle system that uses ES6+ that turn into explosions of joy when their decay gets low and they are removed from the particle array. Colors are currated into an array for design purpose and better visuals.
Frederick Wells
Frederick showed a sweet drum interface being built for a music application. He's using Haml, JS/Babel and SCSS to build out the interaction and front end.
Kevin Lesht
Kevin Lesht showed off machine learning integration into a front end response to uploaded images, try it with a dog or cat :D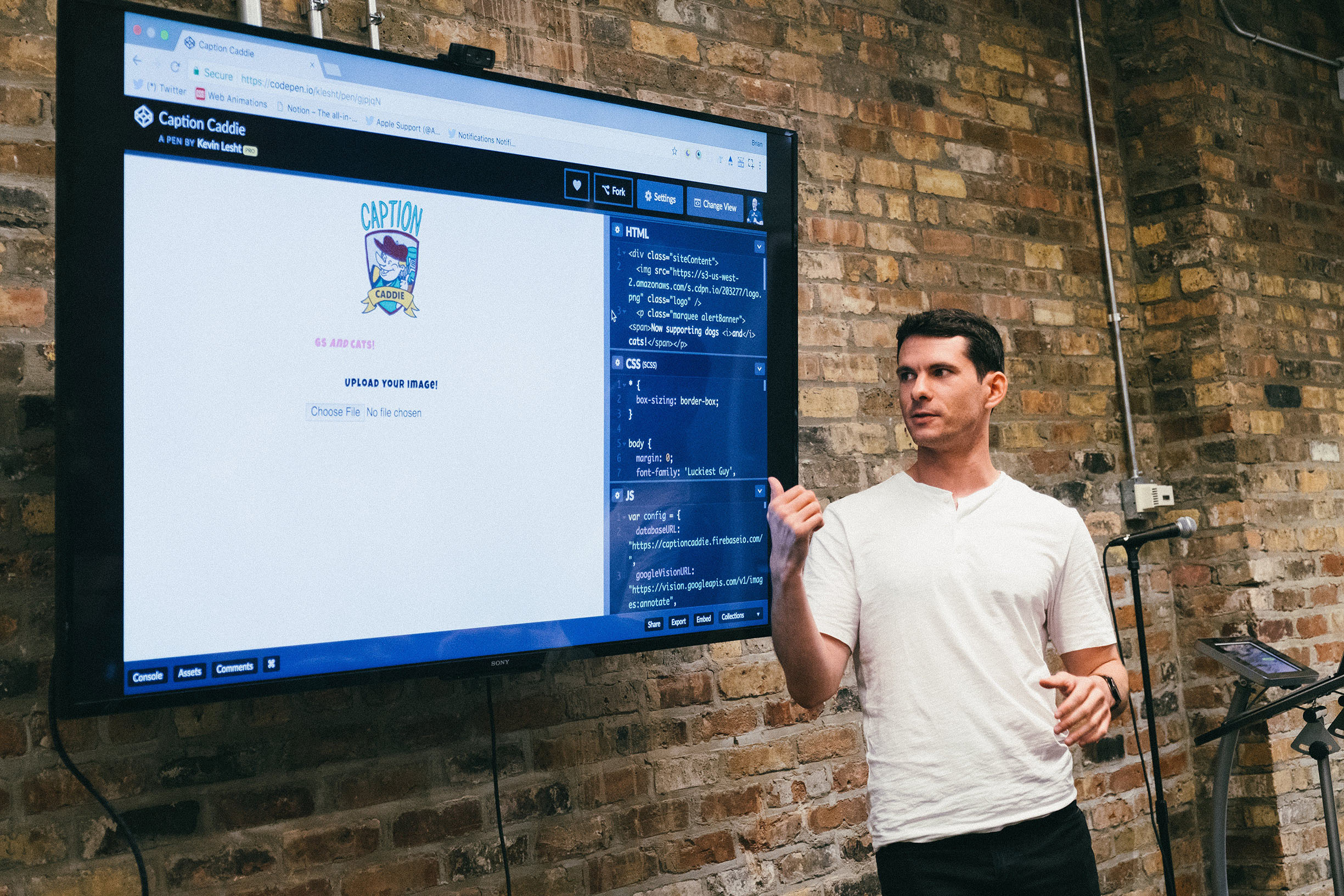 Austin Andrews
Austin showed us the latest update for Material Design Icons being used on CodePen. Austin also mentioned all the wonderful uses for setting up an npm organization :D
Marvin Cespedes
Marvin showed a private pen that used @support method for grid with fallback for flexbox, it was used on evergreen browsers.
Sean Codes
Sean explored how to adjust a layout when moving around components in a grid system, similar to Masonry. The animation used is great, check out the little nudging happening when they swap places.
Photos
Thank you!
Thanks to Jeremy Kahn for giving his presentation on wanting to build Flash! Thanks for Jellyvision sponsoring the space and food, it was wonderful! Always thanks to Marvin for his photos and helping to document :D
---