Free No Login Whiteboard
Ziteboard has a great feature called anonymous whiteboard: no setup or login required. You can share a free whiteboard via a whiteboard link with the minimal setup time, utilizing web browsers to access the virtual whiteboards. However, Ziteboard's private board allows users to setup administrator controls, so you can moderate your whiteboard workspace. This is especially helpful for any teams that want to keep their collaborative work space more private, and helps prevent unwanted eyes from getting access to your workspace. Ziteboard is really robust against internet disconnection, the board is repaired and synced immediately after reconnection. Built in voice and video chat is great for quick communication at the left corner of each board.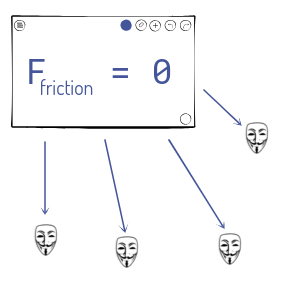 Users, teammates, participants can either access their whiteboards through any web browser including even Edge and Safari, as well as mobile browsers, or you can download a standalone Android app so you don't have to direct yourself to a web page every time you are on the go.
Private boards make it easy to keep your work spaces private, saved and moderated so only the few eyes you invited can access the board, and you can keep the drawing work related.
Users can even upload images, PDF's, or set the background to black, so you can share quick snapshots of any web pages or program to collaborate within specific context, with your content right on the board itself.
Anonymous whiteboards don't require your clients or students to register or login to Ziteboard. They just click the anonymous whiteboard link and join in the teamwork instantly. No more friction. This feature is for Pro users only, read about the price.
---